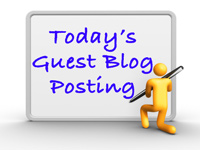 Yesterday, we looked at some of the ways in which guest blogging can benefit you. Today I am sharing my top tips for being the kind of guest blogger everyone would like to have write for them.

1. Do your research
Read the archived posts of the blog owner. Make sure the tone and language of your post fits the character of the blog. Which posts get the most comments? What resonates best with readers?
2. Pull out all the stops to make your post top-notch
This is your chance to shine, so really make this the best piece of writing you can. Check your facts, credit your sources, and link to external references and sites.
3. Provide an author bio
Write the basic facts that readers will want – don't overdo it, just enough to make it interesting and relevant.
4. Don't be self-serving
There is nothing guaranteed to put a reader off than something that is obviously written as a sales pitch for your product or service. You will get the opportunity to link to your business in your author bio and trust me, if your content is good enough, people will check you out, just so long as they don't feel as if they are being aggressively sold to.
5. Follow through
The last step, but this, in my opinion, is the one that separates the mediocre guest blogger from the finest. When I invite guest bloggers to write for me, the outstanding ones are those who show they care enough to follow through by responding to comments, promoting via social networks, connecting with commentators online, and even expanding the discussion, as happened on one of my other blogs this week, by starting a twitter chat around the topic.
Don't forget to join us this evening on Twitter for a blog chat devoted to guest blogging. Sign up now via our Facebook page and join us for #BlogChatIE.